Art Show
Exhibit Hours
In the Regency Ballroom, A, B, C, & D :
Open to Members
Artist Access Only
Wednesday, Nov 5
~
6 p.m. Early Setup
Thursday, Nov 6
3 p.m. to 6 p.m.
10 a.m. Artist Check-In
Friday, Nov 7
10 a.m. to 6 p.m.
~
Saturday, Nov 8
10 a.m. to 6 p.m.
Reception 9 to 11 p.m. Regency Foyer
~
Sunday, Nov 9
10 a.m. to 1 p.m. Sales
12 Noon Teardown
Bidding & Sales
Bidding for art will end at the close of the Art Show Reception on Saturday night, and sales will take place on Sunday. The Print Shop will be open for sales whenever the Art Show is open.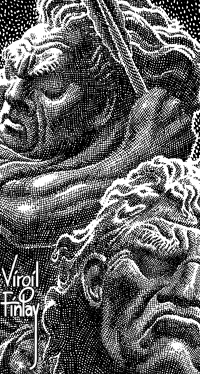 Reception
Saturday, 9 p.m. to 11 p.m. in the Regency Ballroom Foyer
The Virgil Finlay Centenary Prize for the Best in Show was presented at the Reception to Greg Manchess for his painting "Above the Timberline.". His work was chosen by the exhibiting artists, and the prize was presented by our Special Guest Lail Finlay.
The Reception will also host the Book Launch for The Collectors Book of Virgil Finlay.
Virgil Finlay Exhibit
There will be a special exhibit of the Art of Virgil Finlay, whose centenary is this year. The exhibit is being curated by Edie Stern and Joe Siclari. If you have a piece of Virgil Finlay art that you would like included in the special display, please contact us at gro.4102ysatnafdlrow@wohstra .
Exhibiting Artists
Artist Information
All exhibiting artists are selected by a jury, and must be either Attending or Supporting members of the convention. The application deadline for artists was July 15. For Artist Information, please see our Artist Information page.