Hospitality & Member Services
Registration Desk
Attendees may pick up their badges at the Registration Desk in the Independence Foyer on the Independence Level. Open hours are: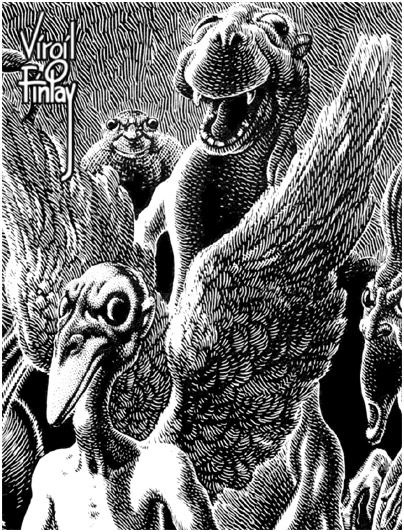 7 p.m. - 10 p.m. Wednesday evening
10 a.m. - 6 p.m. Thursday, Friday, Saturday
Hospitality Suite
The convention's Hospitality Suite is on the 18th floor of the Hyatt.
Wednesday evening
Thursday evening
Friday
Saturday
Sunday
7 p.m. - 1 a.m.
8 p.m. - 1 a.m.
8 a.m. - 1 a.m.
8 a.m. - 1 a.m.
9 a.m. - Midnight
Suite Volunteers
Anyone wishing to help with the Hospitality Suite may contact Sam Lubell to volunteer.
Restaurant Guide
6 p.m. to 8 p.m. has been set aside for dinner Thursday, Friday, and Saturday.
Some hard copies will be available for review in Hospitality (18th Floor; Presidential Suite), Operations (Convention Office; Regency Ballroom Level) and Registration (Independence Foyer).
Parties
For information on setting up Parties, contact our Party Coordinator.
Friday
Wake up with the Canadians! (No Exercise Required) - 9 a.m. Regency 1

Ticonderoga Meet and Greet - 3 p.m. Regency 1
Angela Slatter, Kathleen Jennings, Janeen Webb, and Jack Dann
ChiZine Publications - 9 p.m. Regency 1
Sandra Kasturi, Helen Marshall, David Nickle, Michael Rowe
Saturday
Broad Universe Rapid Fire Reading - 1 p.m. Regency Suite 1
Danielle Ackley-McPhail, Sarah Avery, Carol Berg, C.D. Covington, Randee Dawn, Julia Dvorin, Sally Wiener Grotta, Elektra Hammond, Laurell Anne Hill, Elaine Isaak (E.C. Ambrose), L. Jagi Lamplighter, Gail Z. Martin, Heather McDougal, Sherry Peters, Sarah Pinsker, Kathy Sullivan and Jean Marie Ward
Book Launch: "Steam Punk User's Manual" - 1 p.m. Regency 2
Jeff VanderMeer, Ann VanderMeer, Desirina Boskovich
WFC 2015 - 8 p.m. Hospitality Suite

Book Launch: "The Collectors Book of Virgil Finlay" - 9 p.m. Regency Ballroom Foyer
As part of the Art Show Reception.
Book Launch: "The Winter Boy" by Sally Wiener Grotta - 9 p.m. Regency 1
Pixel Hall Press Sally Wiener Grotta, Daniel Grotta
Writers Lounge
We'll have a Writers Lounge for those seeking a communal writing space. Although the Writers Lounge must change location each day due to function space limitations, we will try to create a comfortable and supportive writing environment that is usable by any Attending member of WFC 2014.
We will provide electricity, hydration for bodies, and an atmosphere of encouragement! Flip charts will be available for 'Take It or Leave It' writing advice. All writers may stop by to 'leave' a favorite word, a burst of encouragement, or a piece of fresh wisdom. Other writers can 'take' the challenge of prompts, ideas, and the inspiration left behind.
Hotel Happy Hour
Happy Hour is from 4 p.m. to 7 p.m. Thursday through Sunday in the LobbiBar on the Lobby Level. Sample our specialty drink: French 75.
Shipping Members' Books Home
United Parcel Service (UPS) will be at the hotel Saturday afternoon 1 p.m. to 5 p.m., and Sunday 10 a.m. to 5 p.m. UPS will have boxes for packing your books. You are responsible for all costs associated with shipping.
Accessibility Services
We are committed to providing the best possible experience to all our attendees, including those needing visual or auditory interpretive assistance, mobility needs, or similar assistance. Please send your requests no later than Tuesday, 30 September. Contact our Accessibility Coordinator, Rodger Burns, at moc.liamg@xnihpsredle with any questions or requests.
Scooter/Wheelchair Rental
We are pleased to work in partnership with Express Mobility Services to provide scooter and related equipment rentals. Event rates are $ 175 plus tax for a standard scooter; $ 250 plus tax for a heavy-duty scooter (recommended for expected loads of greater than 250 lbs.) Attendees should contact Jebessa at Express Mobility Services, (877) 721-3129 to request a rental and arrange payment.
Scooters will be available for pickup at the Hyatt starting at 3 p.m. on Wednesday, 5 November and must be returned no later than Noon on Monday, 10 November. Attendees wishing alternate pickup/return dates or other alternate arrangements should contact Express Mobility Services, but may not be guaranteed the event rate. To ensure your reservation is confirmed ahead of the event, please make final payment no later than Wednesday, 29 October. Please contact Rodger Burns at moc.liamg@xnihpsredle if you have questions or need additional information.